Bermiok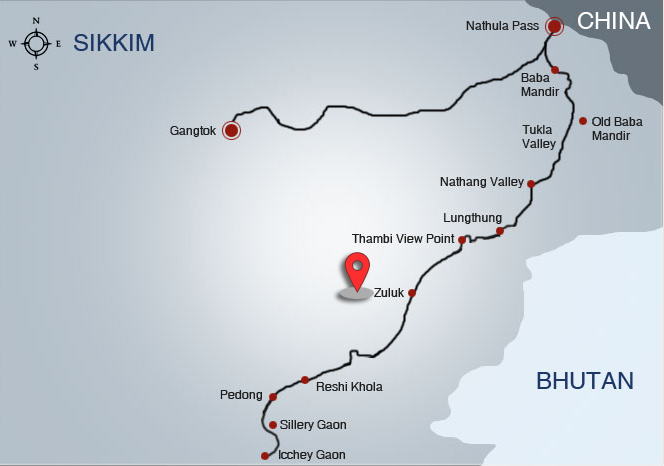 Bermiok
Hee & Bermiok is a group of villages in West Sikkim that has become prominent tourist destination in the recent past. The area is not one single tourist destination but a cluster of tourist destinations each of which has its pride of place on its own right.
The villages of the region are mostly set on the northern side of a long East-West spanning ridge that rises from the Rangit river and continues west till it breaks into a number of smaller ridges before entering Nepal through the Singalila Range. To the immediate north is another ridge on which the famous tourist town of Pelling is situated. Further North is the Kanchenjunga Massif. This area South West of Pelling has become popular amongst tourists as it offers equally breathtaking views of the mountains as Pelling, yet the area is much less crowded and ideally suited for leisurely stay.
The forest to its immediate South is Varsey Rhododendron Sanctuary, which connects with the Singalila National Park of West Bengal further South, and to the West, the Nepal boarder.
What to see:
Hee – Bermiok is not a typical sightseeing tourist destination. You would be visiting the village for its astounding mountain views, simple village walks, uncluttered way of life, chirping birds and hospitable people. Kaluk, Rinchenpong is just 10 kms away and Pelling, the most important tourist place of West Sikkim, is just 40 kms away. As a result you may enjoy all the tourist attractions west Sikkim based here.
How to Reach:
NJP to Kaluk : 135 kms, 5-6 hours drive. The nearest rail station is New Jalpaiguri, 135 kms away, whereas the nearest airport is Bagdogra, 140 kms. Journey to Hee Bermiok takes about four and a half hours from Gangtok. One can also reach here from Pelling, the journey taking one and a half hours. The other places of tourist importance around Hee - Bermiok are as follows 
Pelling – 40 Kms
Kaluk / Rinchenpong – 10 kms
Ravangla – 50 kms
Gangtok – 120 kms