Sillery Gaon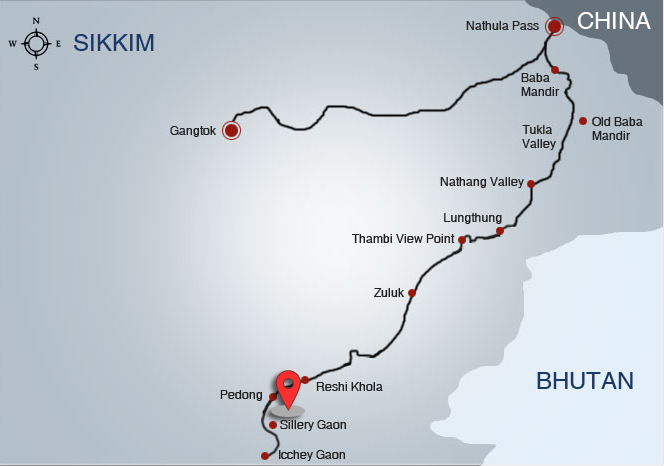 Sillery Gaon

Sillery is a cool mountain village nestled amongst Himalayan hills. It's only a 6 KM. from Pedong which is on the ancient Silk route. Sillery Gaon, a pristine Himalayan village nestled at an altitude of 6000 ft. is an ideal romantic escape. With only 24 families residing in this small village.Sillery Gaon offers a spectacular view of Mt. Kanchenjungha . The entire ambiance of the place is shroud with tranquillity, only interrupted by the chirping of birds. The pine tree's admiring this serene village is being lovingly called New Darjeeling nowadays. One can trek to Ramitey View point and enjoy the breathtaking view of Mt. Kanchenjungha and Sikkim hills.

What to see:
There are two beautiful view points called Tinchuley and Ramitey Dara near Icchen Gaon, which offer a panoramic view of Mt. Kanchenjungha, the towns of Sikkim, Jelep La and Nathula. From Ramitey there is a wide view of the meandering River Teesta, featuring 14 turns along with the mighty Kanchenjungha range.
A visit to the Damsang Fort is also must for all tourists. The fort resides 6 km away from the Icchey Gaon. Built in 1690, by the Lepchas, this fort was destroyed by the British.

How to reach:

NJP to Sillery Gaon : 96 km
Pedong/Algarah to Sillery gaon : 6km
One can reach Sillerygaon by directly hiring a vehicle from NJP or can break the journey at Kalimpong and Algarah and hire a personal vehicle from there. Or one can get down at the cobbled stone road on the Algarah to Pedong road and can trek 3 kms through the jungle.