Namchi - Chardham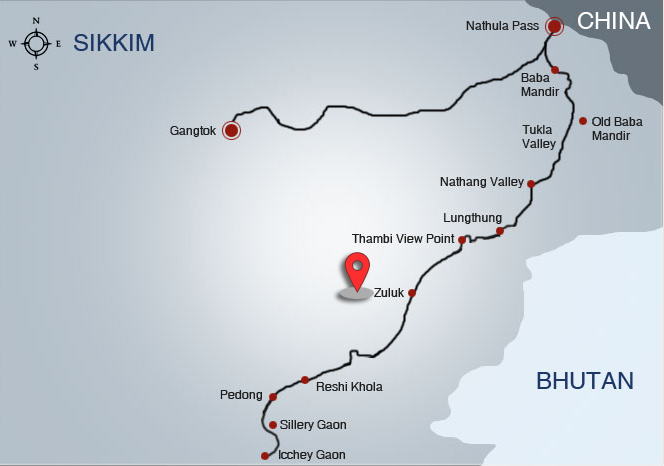 Namchi - Chardham
Namchi is the capital of South Sikkim. It resembles Gangtok in many ways (including the central pedestrian promenade), but is considerably more quiet and local in character, spared of the flood of domestic tourists and the catering industry that comes with it. The district headquarter of South Sikkim has come into tourist prominence only during the last few years. Previously Namchi used to be considered just a large town with little or no attraction for the tourists. However under the aegis of the Chief Minister of Sikkim, who also happens to be the legislator from the area, Namchi slowly but surely made its mark in the tourism scene of Sikkim.
The attraction of Namchi is partially natural and partially man made. The Chardham Temple on the hill top and the Samdruptse statue, are man made attractions that Indian tourists find quite attractive. Even the Namchi market and its well maintained central park is a good place to spend leisurely hours.

What to see:
Char Dham - Sri Siddhesvara Dham, popularly known as the Char Dham is an attempt to bring together the most important religious sites of India to one place, in the form of there replicas. The idol of lord Shiva is the largest with a height of 33 meters. It can be seen from neighbouring hills of Sikkim as well as far of Bengal. Indian religious tourists find the place quite attractive, but for international travellers the attraction is limited as the construction is very recent. Char Dham located at Solophok hill can be reached by vehicle from main market which is about 5 kms away. Last couple of kms to Char Dham is forested area, where birding can be explored to great advantage.
Samdruptse Statue - This is a 36 meter high statue of Guru Padamasambhava. The statue is located about 7 kms away from Namchi town in the opposite direction of Char Dham and on the way towards Ravangla. The place is called Tendong Hill. On a clear day the place offers excellent view of the surrounding mountains.

How to Reach:

NJP to Namchi : 100 kms, 3-4 hours drive. It is closer to Kalimpong which is about 50 kms and two and half hours away. Darjeeling through the main road is about 70 kms and 3 hours distance.
Among the different tourist destinations of Sikkim, Namchi is about 90 kms and 4 hours drive from capital Gangtok. The nearest tourist place is Ravangla, just 26 kms away and takes less than an hour to reach. Pelling about 75 kms away takes about 2.5 hours to reach.