Lungthung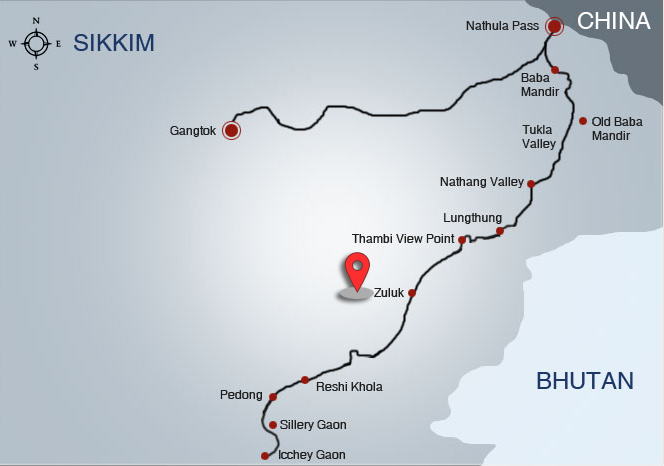 Lungthung
The village of Lunghthung-Dhupidara located at almost 11,500 feet is perched on a hilltop with panoramic views of Mt. Kanchenjungha on one side and the winding roads of Zuluk on the other. Thambi View Point which offers a great bird's eye view of Mt. Kanchenjungha and the whole of Eastern Himalayas is within a kilometre of Lunthung–Dhupidara village. From January to April the whole of Lungthung–Dhupidara is virtually buried in snow and the only colour you can see is white. The mountain slopes and valleys are drenched in a riot of colours around Lungthung–Dhupidara from July to September when the wild flowers bloom. There are few homestays in Lungthung–Dhupidara which has recently been made available to the tourists. The home-stays are clean with all basic comforts and attached Western Bathrooms and great views of snow capped mountains.

What to see:
One can see a mesmerising sunrise over Mt. Kanchenjungha range just walking down from your room. Lungthung–Dhupidara village is very near to the famous Thambi View Point and offers one of the best views of Eastern Himalayas with Mt. Kanchenjungha on one side and the Zig Zag Roads (Bhul Bhulaiya) on the other. The homestays are located just on the top of these Zig Zag Roads. The panoramic views from nearby Laxmi Chowk of the hill towns like Kalimpong, Pedong, Lava, Algarah and the sub Himalayan ranges of Sikkim and West Bengal can also be seen from here. The surrounding forests of Lungthung–Dhupidara is home to numerous species of birds and even the Red Panda. Wild flowers, rhododendrons and ferns bloom during the seasons around Lungthung. While staying at Lunghthung you can cover Padamchen, Zuluk, Nathang, Kupup Lake, Tukla Valley and all other spots in the Silk Route circuit in day trips. Lungthung–Dhupidara shelters some of the rarest birds like Pheasants. The whole of Lungthung–Dhupidara is controlled and patrolled by Indian Army, and the place is truly great for romancing nature. Here, you will pass through army barracks, ammunition camp, bunkers and various artilleries

How to Reach:

NJP to Lungthung : 165 kms, 7-8 hours drive. Either one can reach Rangpo from NJP/Bagdogra and then proceed to Lungthung via Rongli or one can stay overnight at Aritar or Reshi Khola, Sillery Gaon or Zuluk and proceed to Lungthung the next day. Because due to high altitude it is not at all recommended to reach Lungthung directly from NJP. Besides that to get inner line permit at Rongli check port it takes lots of time, specially during high season.
Same can be done during return journey or one can take the Nathula - Baba Mandir-Tssomgo Lake route and can stay at Gangtok. Permit : A trip to Zuluk requires special permits. The permits though would be arranged by us and as a guest you would only need to provide your id proof and 2 copies of passport size photograph.