Kaluk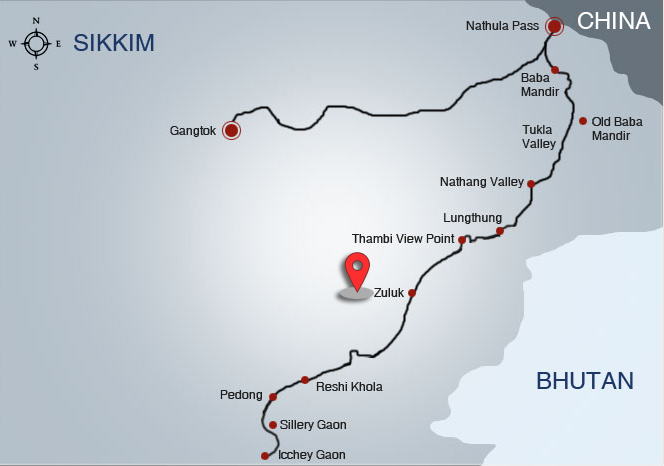 Kaluk
Kaluk is the small village located in the Himalayan foothills of West Sikkim, near the West Sikkim capital of Gyalshing. Mt. Kangchenjunga, the world's third highest peak, is visible from Kaluk. It is one of the windiest places in Sikkim and noted for destinations like the Durga Mandir, Rinchenpong Gumba and Megi Dara. The people of this area are dependent on agriculture and horticulture for their livelihood. Tourism also plays an economic role in the region.
Kaluk is situated at an altitude of 5600 feet in West Sikkim. One can see the town of Geyzing on the opposite hillock and even Pelling. The place offers a near 180 degrees view of the snow peaks on a clear day, including all the named peaks of the Kanchenjunga Range. The twin city of Rinchenpong is a few miles away and so is the Rinchenpong monastery.
What to see:
Kaluk, Rinchenpong, Hee-Bermiok are in the western circuit of Sikkim tourism map. This region is still little un explored and loved by the nature loving travelier.
There are a lot of places to visit near Kaluk. The main ones are Temi tea garden, Rinchenpong Monastery, Singshore Bridge, which is Asia's second highest bridge, are some of the main attractions. You can also plan to visit the Varsey Rhododendron Sanctuary during the season.
How to Reach:
NJP to Kaluk : 125 kms, 4-5 hours drive. Traveler can cover this distance to reach Kaluk by directly hiring a car from NJP or Bagdogra. With car rental service of North Bengal Tourism, travelers can easily hire a taxi from NJP to Kaluk or rent a car from Bagdogra to Kaluk at a reasonable price.Some travelers also overnight halt in Gangtok or Pelling to breakdown the journey time to reach Kaluk. The distance between Gangtok to Kaluk is 104 kilometers and the distance between Pelling to Kaluk is 38 kilometers