Nimachen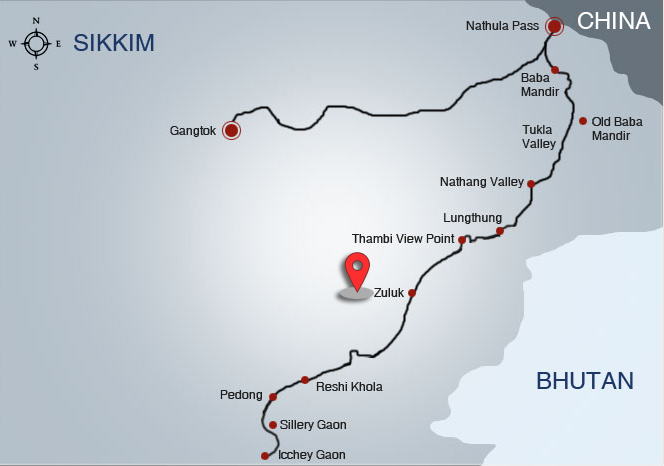 Nimachen
Nimachen is a small village on the Silk Route circuit just 13 kms from Rongli and 14 kms from Zuluk , situated on a hill slope at 7800 ft and covered in dense forests . Throughout the year Nimachen experiences a very pleasant weather which makes the place more popular. If you are not used to biting cold and snowfall but want to experience the mesmerizing sunrise, excellent views and winding roads and valleys of this Silk Route, then staying at Nimachen could be a better choice.Nimachen has some of the best views of the valleys and forests of this part of Sikkim and Himalayan foothills. The forests around Nimachen support a wide variety of bird population and bird watchers would love to spend a few days here.
What to see:
From Namachen all the sight seeing spots can be covered in Silk Route.
A few kilometre's drive from
Nimachen
would take the tourists through a winding road to the
Thambi view point,
via
Zuluk.
The
Thambi View Point
at an altitude of 11,200 ft provides excellent sunrise view. The entire
eastern Himalaya
can be viewed from this spot.
Further ahead you will reach
Lungtung
at an altitude of 13,000 ft.. You may continue till you visit the
Adi Baba Mandir
and the
Kalpokhri Lake
. Further one may go up to Kupup and
Memenchu Lake
.
Kupup
is another army base and is known for the highest golf course in the world at an altitude of 13,500 ft. The
Memenchu Lake
is also known as the
Hati Lake
(Elephant lake)
as the contours of the lake looks like an elephant from up the hills. The road further ahead connects with the famous
Tsongo lake
near
Gangtok
.
How to Reach:
NJP to Nimachen : 132 kms, 5-6 hours drive. Either one can reach
Rangpo
from
NJP/Bagdogra
and then proceed to
Nimachen
via
Rongli
or one can stay overnight at Aritar or Reshi khola or Sillery Gaon and proceed to Zuluk the next day. Same can be done during return journey or one can take the Nathula - Baba Mandir-Tssomgo Lake route and can stay at Gangtok. Permit : A trip to Zuluk requires special permits. The permits though would be arranged by us and as a guest you would only need to provide your id proof and 2 copies of passport size photograph.